Drawings for the parts that we manufacture may easily date back to the late 1940's; the older the drawing, the more arduous interpretation becomes. Through the use of SolidWorks, an extremely capable modeling software, our modeling department is able to transform any 2D blueprint into a workable, unambiguous 3D form. Not only does this allow our team to visualize the complexities of every job, it additionally facilitates a seamless transition into the production phase of our process.
SolidWorks, founded in 1993, is an application that set the standard for what computer aided design could be. Unlike its formerly established competition, SolidWorks set out to provide its users with an interface that was not only comprehensible, but also dynamic in its capabilities. The age of needless complication was soon forgotten; this CAD software rapidly began to replace its antiquated predecessors across the desks of engineers and designers across the country. To this day, no other computer aided design program has proven to be as versatile and capable as SolidWorks.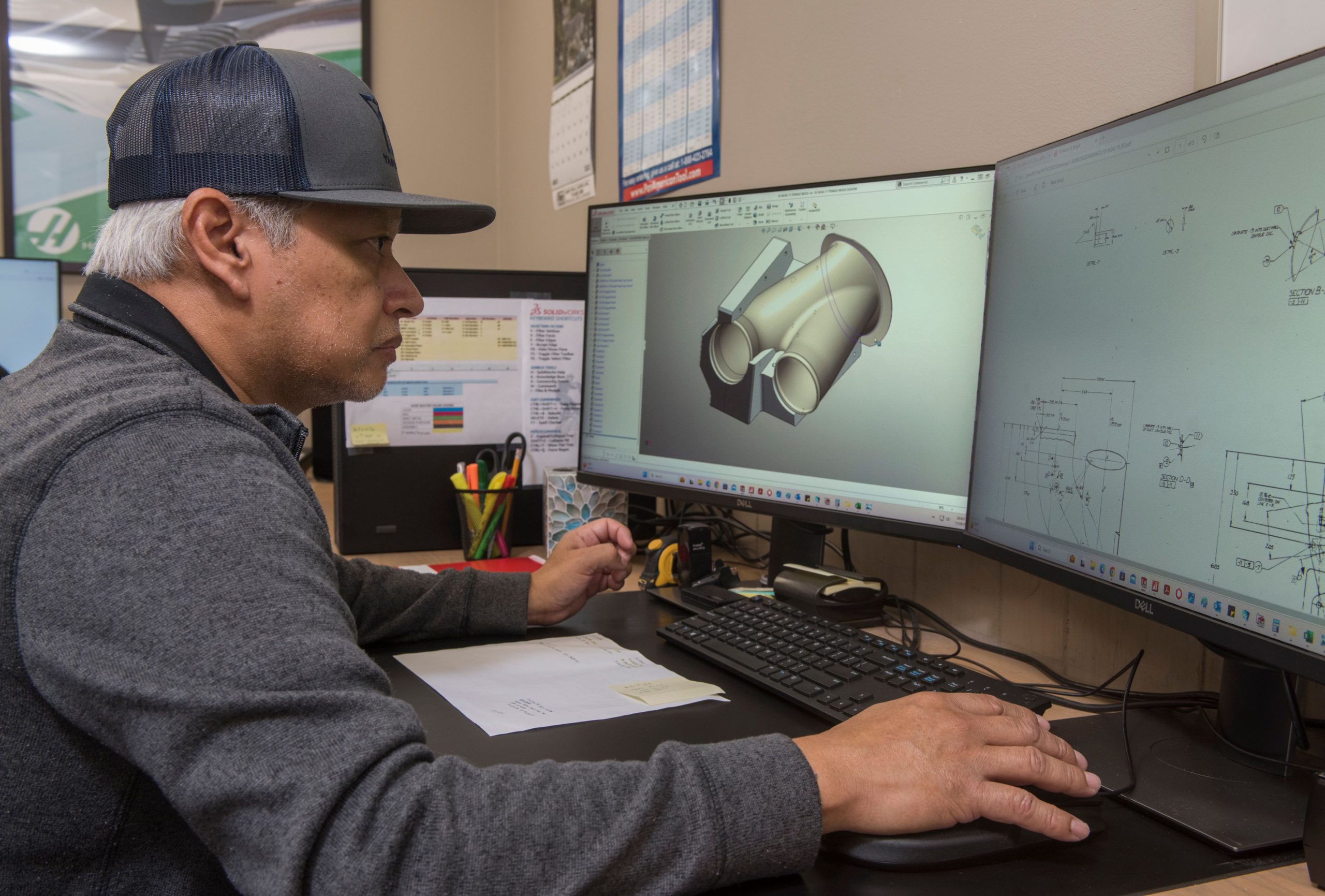 The progression from model to machine could not be complete without the work of programming; we pride ourselves on our modern approaches to complex solutions in this regard. Our team's comprehensive knowledge enables a fluid transformation from concept to reality; by utilizing the industry favorite, Mastercam, every component is produced as efficiently and advantageously as possible.
Where the ability to control a machine from a personal computer was once considered unfathomable, it is now a universal practice that is only improving with time. CNC programming is an art – there are millions of ways to command a machine, but finding the most efficient, effective path is what requires many years of experience. Since 1983, Mastercam has revolutionized the manufacturing industry and has become the most renowned computer aided machining program in the world. The Mastercam network is expansive, as it is the predominant educational CAM software due to its longstanding accountability and trusted name. Highly flexible multi-axis functions and constantly improving "smart" toolpaths allow for significant time savings when machining compared to other CAM systems; coupled with the knowledge of an experienced programmer, this ensures a finished product in record time.
The key to our operational organization lies in our planning department. Before we begin a job, our planning team seamlessly determines the minutiae and specifics that go along with it – the various materials used along with most beneficial sizing and quantities, numerous detailed callouts, and all processes that need to be accomplished by outside vendors are just a few examples of the scope of work accomplished during this "pre-production" outline. Planning will work with all of our other departments to ensure that each job is completed as it should be and in a fashion that prevents both foreseeable and unforeseeable hindrances. We utilize a shop router or "traveler" system to not only ensure thorough documentation, but to also guarantee a synchronous familiarity across all departments. This becomes especially valuable with assembly-based jobs or components with many details, as each element will frequently have its own specificities that can be easily unperceived.